One Step Paint
Heritage Windows and Blinds is proud to offer paint and products by Amy Howard. Amy's products are a unique fresh, fun, easy- breezy way to "go-green" in design; Rescue Restore Redecorate! Amy Howard At Home Paints and Stains allow you to Rescue, Restore, and Redecorate your own pieces of furniture.
The Amy Howard At Home One Step Paint is a revolutionary new paint product that allows you to transform furniture, cabinetry and everything in-between with just one swipe of rich, chalky-soft color- yes- it's that easy. You can even use this on Formica, plastic, metal, and lacquered wood – and yes – it is that good!
Choose from the 38 custom colors.
NEW! AMY HOWARD ONE-STEP PAINT CLASSES
CLASS SCHEDULE – for Colorado Springs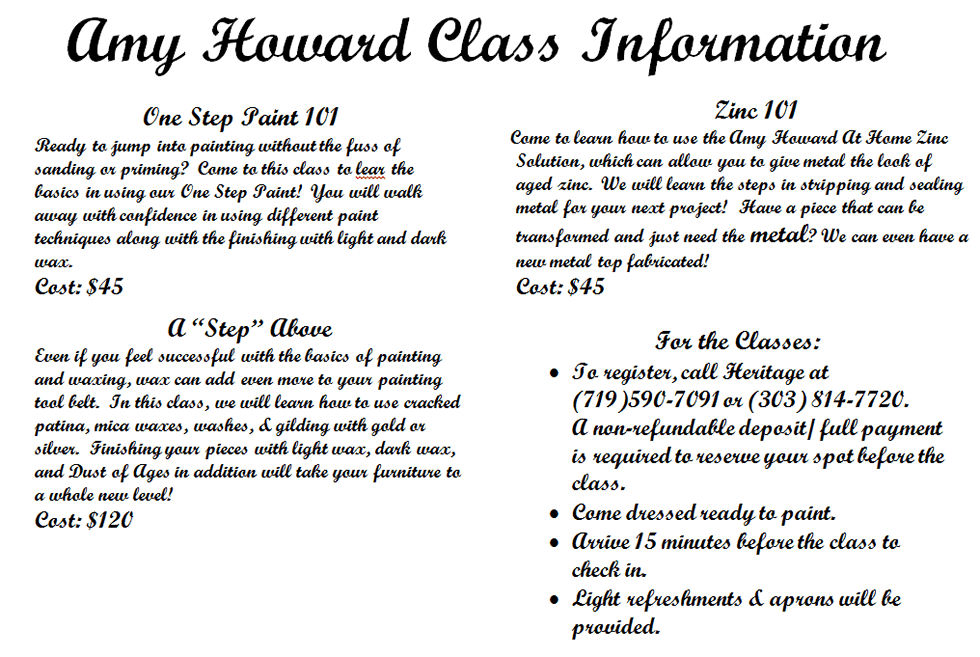 One Step Paint Class
Come see what everyone's talking about! It's true! No sanding, no priming, and you are done with a project quickly due to this products amazingly fast dry time! Walk away with the confidence to paint, wax, and even guild your furniture! Cost: $120
Lacquer & Metal
This class will allow you to have the high fashion look of lacquer along with the timeless look of aged zinc in your home. The lacquer is a spray on wonder that is an exclusive Amy Howard product that dries to a hard, high -gloss finish. You will also learn to age and oxidize metal, which is especially appealing when stencils and designs are used to take your piece to the next level. Cost: $120
Open Studio
Do you have a small piece you want to restore? Bring it in! Be sure that it is small enough for you to carry on your own, and we'll supply you with everything you need to finish this piece, including our expertise. Cost: $90
Class Registration and info:
To register, call Heritage at 590-7091.
A 50% non-refundable deposit is required to reserve your spot before the class.
Come dressed ready to paint.
Light refreshments will be provided.
Bring a friend and get ready to have some fun! Receive a $20 discount when you sign up together for the One Step or Metal & Lacquer Class.
Amy_How_to_Use_One_Step.pdf

One-step Paint DIY – Chair
One-step Paint DIY – Chairs and Urn
One-step Paint DIY – Zinc Solution
One-step Paint DIY – Lacquer Spray Paint
One-step Paint DIY – Antique Mirror Solution